Why First Avenue Advisors?
Improved situational awareness and conscious competence.
Situational Awareness
Have you ever wondered what is being communicated between your customers and your team? Why did they ask that? Why did we answer that way? What did that mean? What should we say or ask next?
Conscious Competence
When communications go well with a customer, does your team know why so it can be deliberately repeated? When communications do not achieve the desired outcome, does your team recognize why and knowingly change to what will?
Who
Middle and Lower-Middle Market Businesses
Manufacturing – Products
Manufacturing – Services
Business Services
Professional Services
Where
Austria, Brazil, Canada, China, France, Germany, Hong Kong, Japan, Malaysia, Mexico, Philippines, Singapore, Spain, Taiwan, Thailand, United Kingdom, and the United States.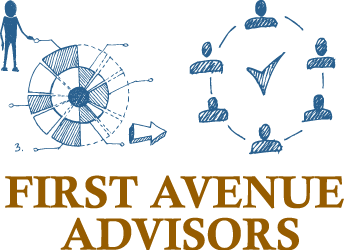 Services
Identifying and Repairing Sales Growth Failure Points
Assessment of Current State of Organic Growth Effectiveness
Trade Show Leadership to Improve ROI
Upsell and Cross-selling Training
Quality of Revenue Due Diligence
Customer Retention Training
Sustainable Revenue Growth
Sales Leadership (interim)
Sales Coaching
Sales Training
Skill Building
Hiring
Problems Solved
Low Organic Growth Rate
Unpredictable Selling Cycle
Unsatisfactory Revenue Retention
Weak Pipeline
Low Margin per Sale
Low RFP / RFQ win rate
Undiscovered Failure Points
Sales Team Turnover
Fear
Tools
Effective Prospecting
Effective Use of Agendas
Effective Networking / Connecting
Effective Tradeshow & Conference Planning, Execution and Review
Effective Use of Questions
Effectively Answering Questions
Framing Conversations through The Buying Process
Effective Meeting Preparation
Effective Post Meeting Critique for Learning
Formula-Driven Sales Progression Pipeline
Business Reviews w/Customers
Cadence Calendar
Selling Stage Progression
Customer Satisfaction & Retention Methodology
Role Description Development
"Always Leaving It Better Than We Found It"
First Avenue Advisors was established in 2006 to deliver on the idea that ordinary people can accomplish extraordinary things when they are focused on the right things to do.
© 2018 First Avenue Advisors | www.firstavenueadvisors.com | Privacy Policy